International riders grace our tracks

November 2009
Col Rogerson remembers going to the packed Kingaroy Showground speedways of the late 1960s and thinking "these blokes want to die".
He knows how big bikes could be if they were to return.
A short circuit Test match against the Poms at Gordonbrook in 1983 drew more than 4000 spectators.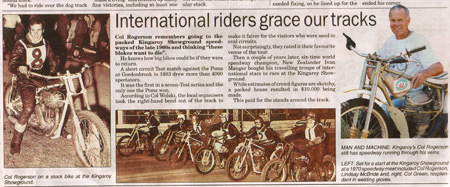 It was the first in a seven-Test series and the only one the Poms won.
According to Col Wolski, the local organisers took the right-hand bend out of the track to make it fairer for the visitors who were used to oval circuits.
Not surprisingly, they rated it their favourite venue of the tour.
Then a couple of years later, six-time world speedway champion, New Zealander Ivan Mauger bought his travelling troupe of international stars to race at the Kingaroy Showground.
While estimates of crowd figures are sketchy, a packed house resulted in $10,000 being made.
This paid for the stands around the track.