Q-Ride Motorcycle Courses
Col Rogerson is a fully accredited Q-RIDE Instructor, and can train you through the entire Q-RIDE process from Pre-Learner to Unrestricted.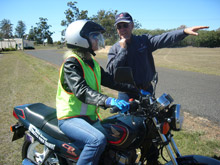 What is Q-RIDE?
Q-RIDE is a motorcycle licensing system designed to help you become a safe rider.
In October 2016, Q-RIDE Course structure has been revised as part of a holistic review of motorcycle licensing in Queensland.
Queensland has a graduated licensing system for new riders, with two motorcycle license classes:
RE (restricted to learner approved motorcycles)
R (unrestricted - may ride any motorcycle)
The training consists of theory, off-road and on-road components. These are carried out at our purpose built facility in Kingaroy and on the roads in and around Kingaroy.
Q-RIDE motorcycle licensing system
1. Pre-learner Course (completed at SBMRT)
12hrs (over 2 days)
Smoko and lunch provided
Complete knowledge test (see below) on the final day to gain your Learner Motorcycle Licence
2. Knowledge Test to gain Motorcycle Learner Licence
To be completed through Qld Transport or Online after successfully completing the pre-learner course
Must ride with another licensed motorcycle rider who has held their licence for at least 12 months
Hold your Learner Licence for at least 3 months before attending RE Course
3. RE Course
8 hrs (1 day)
Smoko and lunch provided
On successful completion you will gain your RE Motorcycle Licence
Hold your RE Motorcycle Licence for at least 2 years before you're eligble for R Licence
4. R Course
3.5 - 4 hrs (half day)
On successful completion you will gain your R Motorcycle Licence
Protective Clothing
You will be required to wear the following protective clothing while being trained:
Australian or European approved helmet
gloves
long trousers
jacket
enclosed footwear
If you don't have access to the above items, we can supply helmets, gloves, jackets and wet weather gear if the weather becomes inclement.
How to Book
Call 07 4162 3125 or 0408 711 441