Our Training Process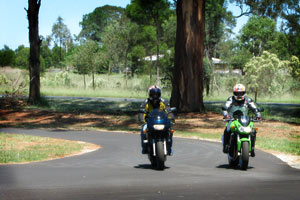 This outline is designed to give you an idea of what goes on during a typical training course.
1. Theory
Our theory sessions are held in small groups in an air-conditioned training room and run for approximately two hours. The theory session covers various topics such as counter-steering, appropriate riding posture and use of the controls.
| | |
| --- | --- |
| Demonstrating counter-steering | Demonstrating use of the controls |
2. Pre-ride Checks
Before heading out to the off road training area, we run through various pre-ride checks such as checking headlights, indicators, horn, etc, as well as discussing some regular maintenance routines.
| | |
| --- | --- |
| Checking the controls and blinkers | |
3. Off-road training
Once all the pre-ride checks have been performed, we progress to the off road training area. Here, we demonstrate controlled braking, counter-steering, picking up a dropped bike, u-turns, gear changing and heaps of other relevant topics.
4. On-Road Training
Once you have perfected the techniques off-road, we then head out on the road to practice these techniques in and around the town of Kingaroy. This is where you will learn to manage a range of road/traffic situations, perform a hill start, apply roadcraft, anticipate other road users and much more.
| | |
| --- | --- |
| Leaving the off-road training area | Highway riding |
5. Course Completion
When our trainer is satisfied you are both confident and competent riding on the road, we head back to our office to complete some paperwork and issue you with a Certificate of Competency.
| | |
| --- | --- |
| Issuing Certificate of Competency | |
If, after the on-road training you are found to be not yet competent, the trainer may suggest another training session.