Speedway star breaks neck at the Kingaroy Showground

November 2009
It was 1974 and after a frustrating four-week lay-off with a broken collarbone, Col Rogerson was itching to race.
He travelled from his workplace in Brisbane to ride in a meet at the Kingaroy Showground.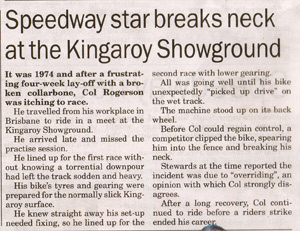 He arrived late and missed the practice session.
He lined up for the first race without knowing a torrential downpour had left the track sodden and heavy.
His bike's tyres and gearing were prepared for the normally slick Kingaroy surface.
He knew straight away his set-up needed fixing, so he lined up for the second race with lower gearing.
All was going well until his bike unexpectedly "picked up drive' on the wet track.
The machine stood up on its back wheel.
Before Col could regain control, a competitor clipped the bike, spearing him into the fence and breaking his neck.
Stewards at the time reported the incident was due to "overriding", an opinion with which Col strongly disagrees.
After a long recovery, Col continued to ride before a riders strike ended his career.