About the Trainers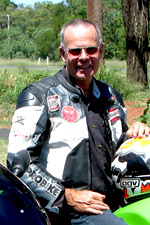 Our qualified trainers are passionate motorcyclists who love to share their passion and teach others the joys of motorcycling. With 65 years experience between them, you can be confident you are receiving the best training in the industry.
Col has 50 years of riding experience and is an enthusiastic motorcyclist who can always find time to spin a yarn or two. Col raced speedway motorcycles in Australia and the UK. Col has a passion for training others, having trained motorcycle riders for the past 20 years. He enjoys restoring and riding veteran and vintage motorcycles and has spent time with motorcycle trainers in Sweden, England, Germany, France and Poland.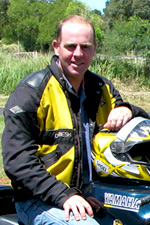 Simon has 25 years riding experience and started training with the Department of Transport 15 years ago. Simon has riden road bikes for the past 13 years as well as raced off-road, Thumper Nats and enduro's for a number of years around Queensland. Simon enjoys teaching people the correct techniques and mindset to make their motorcycling safer and more enjoyable.
Col and Simon are both qualified riding instructors and possess Certificate IV in Training and Assessment and Certificate IV in Driver Instruction. You can be assured with our combined training and experience, that you will gain a wealth of knowledge and have an enjoyable time learning with South Burnett Motorcycle Rider Training.