When speedway was a religion, Rogerson rode on world stage

November 2009
It was 1973 when Kingaroy's Col Rogerson, walked into an English bank to open a new account.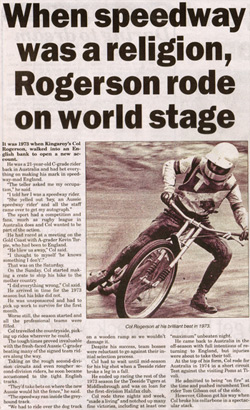 He was a 21-year-old C-grade rider back in Australia and had bet everything on making his mark in speedway-mad England.
"The teller asked me my occupation," he said.
"I told her I was a speedway rider.
"She yelled out 'hey, an Aussie speedway rider' and all the staff came over to get my autograph."
The sport had a competition and fans, much as rugby league in Australia does and Col wanted to be part of the action.
He had raced at a meeting on the Gold Coast with A-grader Kevin Torpie, who had been to England.
"He blew us away," Col said.
"I thought to myself, 'he knows something I don't'."
That was on the Saturday.
On the Sunday, Col started making a crate to ship his bike to the mother country.
"I did everything wrong," Col said.
He arrived in time for the 1973 season but his bike did not.
He was unsponsored and had to pick up work to survive for the first month.
Worse still, the season started and all the professional teams were filled.
Col travelled the countryside, picking up rides wherever he could.
The tough times proved invaluable with the fresh-faced C-grader beating many of the signed team riders along the way.
Taking on the rough second-division circuits and even rougher second-division riders, he soon became accustomed to the tight English tracks.
"They'd take bets on where the new Aussie would hit the fence," he said.
"The speedway ran inside the greyhound track.
"We had to ride over the dog track on a wooden ramp so we wouldn't damage it.
Despite his success, team bosses were reluctant to go against their initial selection process.
Col had to wait until mid-season for his big shot when a Teeside rider broke a leg in a fall.
He ended up racing the rest of the 1973 season for the Teeside Tigers at Middlesbrough and was on loan for the first-division Halifax club.
Col rode three nights a week, "made a living" and notched up many fine victories, including at least one "maximum" unbeaten night.
He came back to Australia in the off-season with full intentions of returning to England, but injuries were about to take their toll.
At the top of his form, Col rode for Australia in 1974 in a short circuit Test against the visiting Poms at Tivoli.
He admitted to being "on fire" at the time and pushed incumbent Test rider Tom Gibson out of the side.
However, Gibson got his way when Col broke his collarbone in a spectacular stack.