Pair to ride high in the Apple Isle
August 2007
Col and Yvonne Rogerson are heading for the Apple Isle with their babies - a 1912 Triumph and a 1914 GCS - for the forthcoming Tasmanian Rally.
The event starts on September 30 and finishes on October 5.
And while it might seem a long way to take a couple of old motorcycles to ride them quite a long way, very slowly, the South Burnett will be well-represented.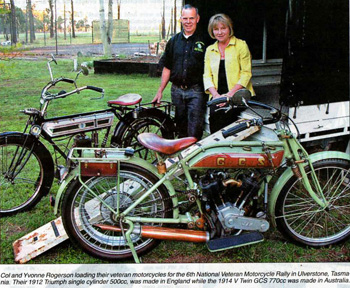 At least five ancient bikelists will be heading south - the bikes, that is, not the riders.
As well as Col and Yvonne, Peter Schultz; Dennis and Jan Seng are also making the journey.
Col - who operates the Q-Ride motorcycle training group in Kingaroy - said speed would be the last think on the minds of the participants (you cannot really call them competitors) when riding a veteran motorcycle.
Nevertheless, he says the experience is totally satisfying.
It will be Col and Yvonne's first trip to Tasmania, but his fifth national veteran rally.
He previously participated in events at Orange NSW, Warwick Queensland, Wangaratta Victoria, Nuriootpa SA and the Ulverstone event in Tasmania.
National rallies are held every two years.
The Rogersons are transporting their bikes in the back of the utility and crossing Bass Strait on board the Spirit of Tasmania.
Col said the rallies attract about 100 motorcyclists with a common interest in veteran motorcycles. They meet at different venues around the country for the week-long rally.
Each day the riders set off on a run of about 100km at an average speed of 60 kph. They stop for morning tea and lunch as well as take in sights of interest.
They return to Ulverstone each afternoon to prepare for the next day's ride, socialise and enjoy the comradeshop.
All motorcycles were built before 1918. Some have gearboxes and clutches while others are direct belt drive.
Col said riding a direct drive can be very challenging in traffic as the engine has to be stopped to stop the motorcycle. It is then peddled to restart.
He said some of the American-built motorcycles are chain drive, which is an advantage if it rains as the belt-drives tend to slip when they get wet.
Col and Yvonne plan to call in at Phillip Island for the MotoGP on the way home from Tasmania.