Oldest bikers 'rumble'
Some of the South Burnett's oldest 'bikies' gathered in town last week.
But it wasn't a case of this unlikely group planning a major rumble in town.
Or secretly, maybe it was!
Nor was it a meeting of incontinence of the minds.
No sir!
The group fondly discussing bikes, bike racing and 'the way things were'.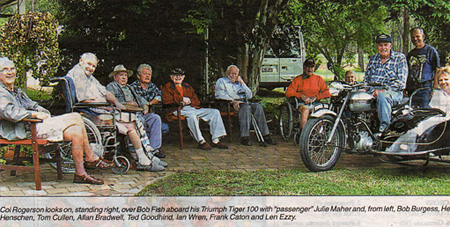 Then on to "today's ratbags", road rules and how to solve the problems of the world - all over a cup of tea or coffee and morning tea at Col Rogerson's Bunya Highway home on acreage just out of town.
Herb Henschen, Tun Cullen, Ted Goodhind, Ian Wren, Frank Caton, Len Ezzy and Bob Fish made up the enthusiastic group who examined the range of motorcycles built in the 1970s; a 1936 Rudge Ulster; a 770cc GCS built in Melbourne by George Cyril Stillwell in 1914; a 500cc Triumph from 1912; and a 1951 500cc Triumph with a Tillbrook Sidecar belonging to Mr Fish.
Modern motorcycles included a BMW 1100cc, a Kawasaki 750cc and a Suzuki 400cc.
For those of you who do not know him, Col Rogerson and son Simon are waging a two-man war to train motorcycle riders from themselves and car drivers through Col's state government-initiated Q-Ride operation.
The word is that Col has big plans afoot, but last Thursday was the first of what is hoped will be many visits by interested clients from Kingaroy's Canowindra nursing home.
The "boys" were ferried to Col's home by Canowindra employee Julie Maher, herself a bike rider trained by Col.
"I think it's worked out really well", she said.
"It's certainly been great to see the 'boys' in their old element."
"I'm amazed by these guys," said Allan Bradwell, a part-time carer assisting Julie.
"I started looking after these guys on a casual basis but I know I'll always do it. After meeting them, getting to know them and talking to them, it's amazing how much they know - both individually and collectively and the history they each have."
Allan said he also had a passing interest in motorcycles.
"I've ridden six bikes and fallen off six bikes, so now I just look," he quipped.
Mr Fish, who lives near Col, enjoyed the morning and added to the day by bringing his 1951 Triumph Tiger 100 bike and sidecar combination.
"I rebuilt it from a wreck," he said, adding that it was a common ability of "his generation" to repair or make things when they broke because they simply could not afford to buy replacement parts.
He said rebuilding old bikes was a passion that could have you making contact with other owners around the world in the search for parts, or simply trying to figure out how to make a new part.
"Mind you, the internet's good that way," added Bob surprisingly.
"You can find just about anything you want."
But he was scathing of the 'throw-away' generation.
"Today's young bike riders wouldn't know how to fix something that breaks. They've been conditioned so that if something breaks, throw it away and buy a new one," he said.
"Bit like us, really," mumbled a voice in the background. "Just a bunch of old farts!"