Col Rogerson's Nightmare... ROADKILL
23 May 2008
Col Rogerson's dream of preventing motorcyclists from becoming roadkill is about to come true.
Thanks to his vision, Kingaroy will soon possess the best privately-owned motorcycle training facility in Queensland.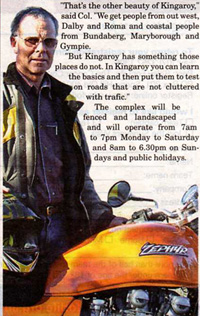 And Col is determined that his complex will be completed by the end of the year.
The former single classroom school occupied by scouts at Hazeldene will be relocated to Col's property at the end of the month to become the training room, clubhouse and meeting place, with earthworks and the bitumen surfacing of the track to follow. He has no doubts that it will make Kingaroy the epicentre of motorcycle training in the south east.
"Mt Cotton Driver Training Centre in Brisbane is considered the best facility, but it's not privately owned," said Col.
The flow-on benefit for Kingaroy is obvious: Money! It means more and more people will come to recognise and stay in the South Burnett.
For many years he has been using the quiet roadways of Kingaroy's Sir Joh Bjelke-Petersen Airport, but he knew increasing aircraft manufacturing and development activity would eventually force a change of venue.
Col believes the co-ordination skills of throttle, clutch and brake - as well as cornering - are best practiced on uncluttered roads.
"That's the other beauty of Kingaroy," said Col. "We get people from out west, Dalby and Roma and coastal people from Bundaberg, Maryborough and Gympie.
"But Kingaroy has something those places do not. In Kingaroy you can learn the basics and then put them to test on roads that are not cluttered with traffic."
The complex will be fenced and landscaped and will operated from 7am to 7pm Monday to Saturday and 8am to 6:30pm on Sundays and public holidays.